Take part in spotting vast wildlife species in Queen Elizabeth National Park on this 5 Days Uganda Wildlife Safari. Contact Us for a Quote Contact us today to book this safari tour.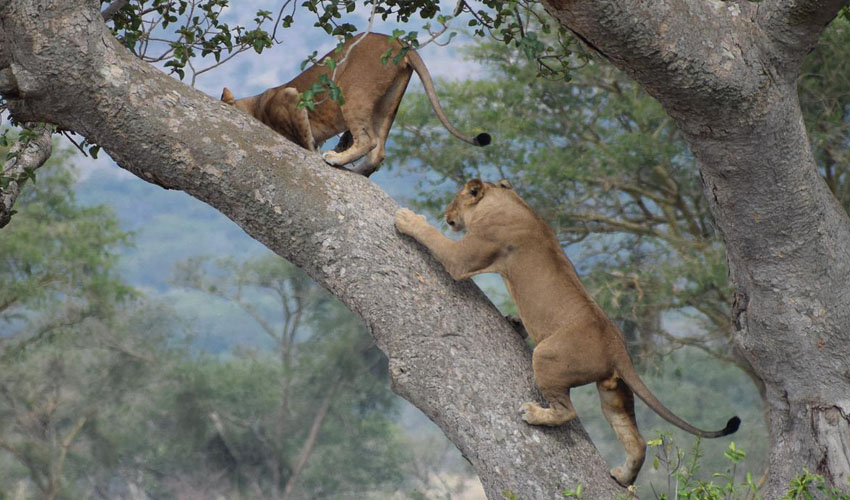 Day 1: Travel to Queen Elizabeth National Park
Have an early morning breakfast then depart from Kampala, drive through the beautiful green belt of the country side. Have a stop at the Equator, an imaginary line that divides the Globe into two equal parts, take photos and then proceed to Masaka town for lunch in Nyendo.You will make a stop over at the Sitatunga centre, Nabajjuzi wetland along the Kampala-Mbarara high way.You will view sitatunga grazing in the wetland vegetation. Then proceed to Queen Elizabeth, accessing park headquarters through Kabatooro gate late in the evening. Dinner and overnight at Mweya Safari lodge.
Day 2: Game Drive
Have breakfast in the morning and set off for a morning game drive along Mweya peninsular. You might be able to see the African giant Elephant, Waterbucks, Warthogs, the Uganda Kob, herds of Buffaloes. Watch out Baboons and monkeys! Have lunch at Mweya safari lodge and then go for a launch cruise along the Kazinga channel the home of wetland birds .You will see the rare shoe bill, Egyptian geese, the yellow billed stork, white pelicans; Hippos and Crocodiles swimming. You will return back to park headquarters for refreshing drinks at Tembo canteen, walk around , you will see the habituated Elephant, "Maria" carrying its routine activities. You don't have to miss out on visiting the Ecological and research institute as well as the lower camping grounds at the students centre. Dinner and overnight at Mweya safari lodge.
Day 3: Depart back to Kampala
After breakfast, visit Nyakasenyi crater lakes then proceed to the Kob- mating grounds, and expect to see various lions waiting to prey on new born Kobs. You will take photographs and enjoy a game drive as you adventure into the vast savanna national park; watch out for the Euphorbia specie, the most dominant vegetation in the park. You will then drive to Semliki wildlife reserve to reach the park in the late afternoon. You will check in your lodge rest and then have dinner after which you will go for a spot lit game drive in the reserve. The drive to reward you with species like the big cats, serval cats and plenty of nocturnal dwellers. Overnight at Semliki Safari Lodge
Day 4: Early morning game drive
In the morning after breakfast you will go for a game drive to park to search for more predators like the Lions, hyenas, leopards, side stripped jackals and others. Later on in the afternoon you will go for a boat ride on Lake Albert to see colonies of red-throated bee-eaters dart in and out of their burrows. The boat ride will reward you with several fishing villages. Overnight at Semliki Safari Lodge.
Day 5: Chimpanzee tracking and after the adventure, drive through the Mountains of the Moon to Kampala.
In the morning after breakfast you will go for a nature walk in the rainforest in search for chimpanzees and other primates. After the meeting these wild chimpanzees you will then drive back to Kampala to reach in the evening.
End of the 5 Days Uganda Wildlife Safari. Contact Us for a Quote