This 5 Days Uganda Primates and Wildlife Tour takes you to track primates and to enjoy unique wildlife sightings. Contact Us for a Quote Contact us to book this amazing Uganda safari.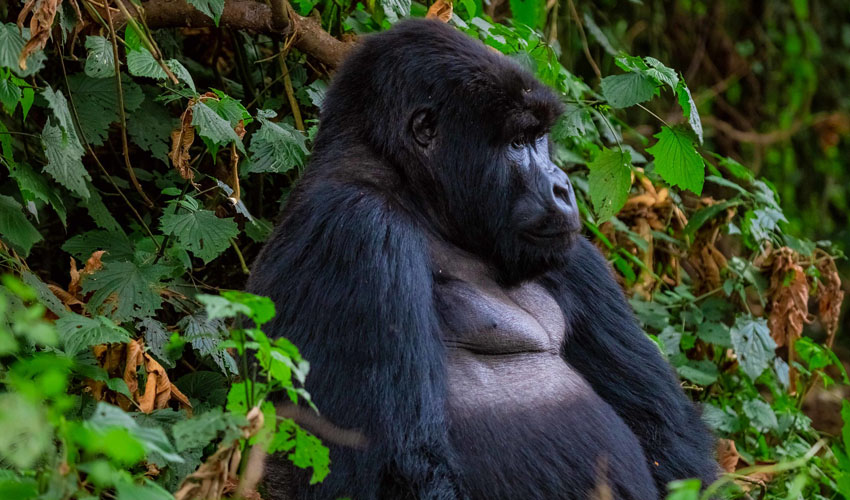 Day 1:
You will be met by our company representative at your Hotel to transfer to Bwindi Impenetrable National Park. The park is known to harbour half of the world's endangered mountain gorillas. It is situated in a hilly country side, together with some remnant lowland forest outside the boundary. You will reach Bwindi late in the afternoon. You may go for a welcome entertainment in some of the cultural dances of the surrounding communities. Dinner and overnight at Gorilla resort or Buhoma community Bandas. Full board.
Day 2:
Have breakfast to transfer to the park headquarters for briefing before setting off to the forest in search for gorillas. The guide will brief you and at 9:00 am you will set off to the forest for these apes. The time you will take searching these humble apes in unpredictable however, it ranges between 2-9 hours depending on their movement. The activity requires you to go through steep rocks climbing up and down making it tiresome. However, the thrill of encountering these giant primates erases the poor memories you went through in trying to find them. Dinner and over night at Gorilla Resort / Buhoma homestead.
Day 3:
Have breakfast to transfer to Kibale National Park from Bwindi. The Park is known to harbour the greatest variety and concentration of primates found anywhere in East Africa. The park protects a large block of rainforest that offers some excellent forest for bird watching. You will reach in the late afternoon to go visit the crater lakes region in the evening. Dinner and overnight at Ndali Lodge.
Day 4:
You will go track chimpanzees in the forest and this will enable you view other primates like the colobus monkeys, Mangabeys, baboons, Bushbabies and many more. You will move with a guide who will make your walk informative and productive making it interesting. He will provide information on both flora and fauna. Have lunch and then in the afternoon you will go for a walk to Bigodi sanctuary for plenty of birds and rare fauna and flora. Dinner and overnight at Ndali lodge or Rwenzori Travelers Inn.
Day 5:
Have breakfast and drive back to Kampala. You will have stops for lunch and at the Equator for photographs. You will reach Kampala in the late afternoon to be transferred to your Hotel. Dinner and overnight at Serena Hotel / Hotel Africana. Contact Us for a Quote
End of the 5 Days Uganda Primates and Wildlife Tour.