Join wildlife viewing and chimp tracking in Uganda on this 5 Days Around Uganda Wildlife Safari and partake in your excursion in Africa. Queen Elizabeth National Park is home to a plentiful number of differing creatures with tree climbing lions in its southern area close by panthers, elephants, waterbucks, warthogs and various Uganda kobs among others. Contact Us for a Quote The well known Kazinga channel in the park draws in a wide assortment of birds and parched vertebrates that are in many cases watched drinking and making a plunge the water. Gigantic crocodiles and hippos are the primary occupants of this stream that highlight this region's amazing view. Kibale's chimpanzees are mind boggling and plentiful. The two national parks are situated in the western locale of Uganda which is supplied with wildlife, yet additionally wondrous scenes including the lovely moving slopes, mountains and endless hills.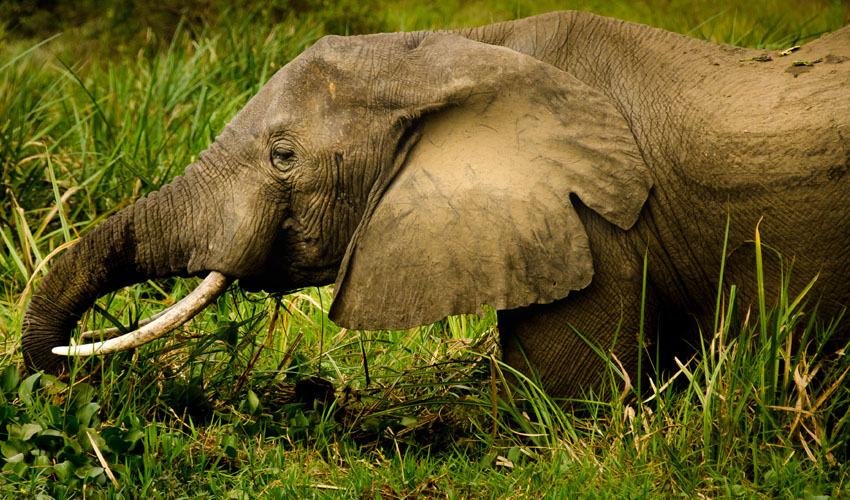 Day 1: Transfer from Kampala to Kibale
You will be picked up by a Rwefuma Safaris tour guide from your hotel or place of residence in Kampala and taken on a journey to Kibale Forest National Park. Arrangement is made in time for the pickup from your lodging that is in the wake of eating or from the airport and the journey of around 5 hours starts. It takes you through the fundamental towns of Mityana, Mubende and the lovely Fort Portal where we have the main stopover for lunch prior to continuing to Kibale National Park.
Accommodation: Primate Lodge, Ndali Lodge, Chimpanzee Forest Guesthouse, Kibale Forest Camp.
Day 2: Chimpanzee Tracking and Birding
Arrive at the beginning stage subsequent to taking breakfast. You could collaborate with additional individuals at Kanyanchu Visitors Center going for the action to frame a greatest gathering of 8which drove through the woodland by an outfitted officer. No conviction about what amount of time it requires to track down the chimps yet when that opportunity arrives, it is dependably an hour of thrill. Taking photographs is confined to cameras without electric lamp.
With a ton of pictures of the experience, unwind at the lodge subsequent to partaking in your lunch. As the daylight heat drops, set out for a walk and birding around Bigodi swamp which keeps a ton of birds and different primates like monkeys and mandrills.
Accommodation: Primate Lodge, Ndali Lodge, Chimpanzee Forest Guesthouse, Kibale Forest Camp.
Day 3: Transfer to Queen Elizabeth National Park
Set off in the first part of the day after breakfast and drive through Fort Portal by means of the slope on which Toro royal residence is found. Next are the perspectives on the Rwenzori ranges all through the excursion to Kasese and to the park. Lunch is had in transit and a night game drive in the savannah fields of Queen Elizabeth. Sightings expected are of lions, leopard and hyena while Uganda kobs, bison, waterbucks and elephants are regularly seen.
Accommodation: Mweya Safari Lodge, Katara Safari Lodge, Marafiki Lodge, Simba Safari Camp.
Day 4: Morning Game Drive – Afrtenoon Boat Cruise
Each day in the wild is a delightful one and it begins with an early breakfast, then set out for the game drive toward the northern part of the park. A splendid morning likewise offers a dazzling dawn. After around 4 hours, return to the lodge, unwind, eat and plan for a midday boat journey which happens along Kazinga channel. The 2 hours spent on the water gives you an opportunity to spot numerous types of birds, well evolved creatures and a few reptiles are seen. Toward the finish of the boat ride, you are driven back to the lodge for supper and the short-term.
Accommodation: Mweya Safari Lodge, Katara Safari Lodge, Marafiki Lodge, Simba Safari Camp.
Day 5: Return to Kampala
Get up to an early morning breakfast and set out of the park. On the other hand, you can go for a concise visit to Katwe craters prior to leaving this wondrously gifted national park. Mid-day break in Mbarara or Masaka and a visit at Kayabwe to take photographs at the equator. You could too buy a few gifts there.
End of the 5 Days Around Uganda Wildlife Safari. Contact Us for a Quote
This 5 Days Around Uganda Wildlife Safari includes; a safari van, an expert English talking guide, filtered water, all recorded exercises with the exception of the Bigodi visit, convenience and suppers (breakfast, lunch and dinner)and park extra charges.
The 5 Days Around Uganda Wildlife Safari excludes; the voyagers' flights, gifts, clothing at the lodge, things of individual interest, additional dinners and beverages, cocktails and convenience in Kampala.