Our 3 Days Murchison Falls National Park Tour opens you to Uganda's biggest Park, situated in Northwestern Uganda. Murchison Falls National Park is comprised of Savannah meadows and the Victoria Nile that courses through isolating it into two (the northern and southern bank). Contact Us for a Quote The Park has north of 451 bird species, 76 well evolved creature species, a major number of Nile crocodiles or more all the sublime and booming Murchison Falls just barely getting way through a crevasse is 8m wide.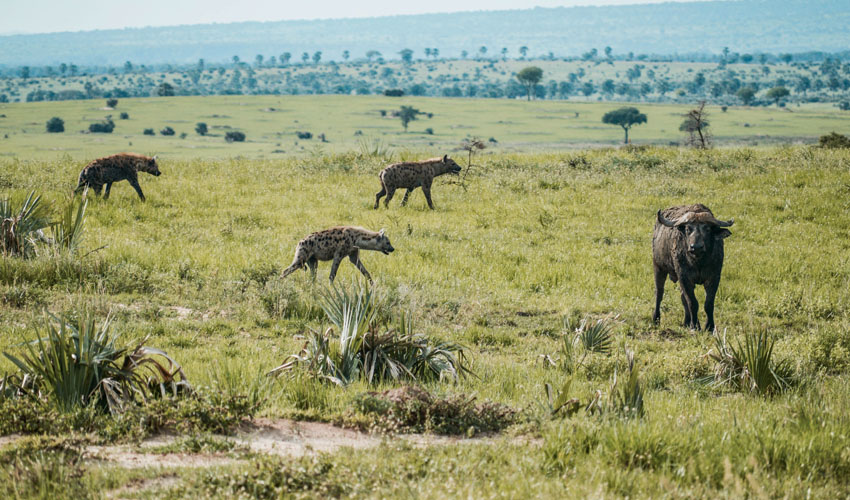 Day 1: Travel to Murchison Falls National Park
After an early breakfast, a Rwefuma Safaris tour guide will get you from your inn or at your place of occupant, and leave to your 6-hour excursion to Murchison Falls National Park. You will go through the Luwero, and later have a visit at Ziwa Rhino Sanctuary for Rhino tracking; here you will track down both highly contrasting Rhinos. Subsequent to tracking have one more stop in Masindi where you will eat, after lunch continue to the park and along the you will see different creatures like warthogs, monkeys among others as you drive to the hotel, loosen up the entire night.
Meal Plan: Lunch and Dinner.
Accommodation: Paraa Safari Lodge/Murchison River.
Day 2: Morning Game Drive and a Boat Cruise Along the Nile
Today, you will have early morning game drive after cup of tea at 6.30am. Fortunate enough have opportunity to recognize such warm blooded animals lions, panther, bison, giraffes, elephants, gazelles, water bucks and birds among others. After the game drive at around 11:40 am, drive back to the cabin, for morning breakfast, unwind/clean up and eat as you plan for the midday boat cruise.
On the boat trip, you will actually want to see different Nile crocodiles, hippos, bison, and elephants along the banks of the Nile as well as various wonderful birds like the honey bee eaters, the hued kingfishers, and the shoe charged stork and numerous others. The boat will lead you to the foundation of these falls, where you will get out and get going on a 1 hour climb to the highest point of the Murchison cascades, you will see astonishing views; right from the falls, vegetation among others. You will meet your driver guide at the top who will later exchange you back to the hotel.
Meal Plan: Breakfast, Lunch and Dinner.
Accommodation: Paraa Safari Lodge/Murchison River.
Day 3: Departure / Return to Kampala
Partake in your morning meal; from that point continue for one more Game drive in the first part of the day returning to Kampala. It will be an extraordinary time as you pay special attention to different creature species however the vast majority of them will be found in the meadows taking care of, for example, bison, elephants, giraffes, lions, impalas, not failing to remember various bird species. Leave the park, have a stop in Masindi for lunch and go on with the excursion arriving at Kampala at night.
Meal Plan: Breakfast and Lunch.
End of the 3 Days Murchison Falls National Park Tour. Contact Us for a Quote
The 3 Days Murchison Falls National Park Tour incorporates;
An English speaking full-time proficient driver guide.
All park entrance charges.
Accommodation-Full board while on safari.
Ziwa Rhino Tracking charges.
Transport safari vehicle.
Boat cruise charges.
Visiting and Photography.
Lunch in transit.
Packaged drinking water.
Be that as it may, the 3 Days Murchison Falls National Park Tour excludes;
International flights, Personal Travel protection, Visa Fees, drinks, cigarettes, tips, trinkets and some other things of individual nature.